Revolutionary Spectral Engine
New Sampling Workflow
Use the Live Freeze feature to sample short sounds as if the notes were being held. This is great for adding depth to your tracks without needing to find new sounds. Simply fill the space in the mix with sounds from existing samples.
Limitless Sound Design Possibilities
Flip any sample by capturing its spectral components to turn it into a synth. Low Tides is great at this! Just capture the note to be held and put it into your favorite sampler!
Powerful Tranisent Frequency Analysis
Pinpoint fast moving frequencies that are difficult to identify in real time. When real-time analysis is not necessary, Live Freeze can be used to get a great representation of your audio. This is useful for EQing sounds with quick transients, as it allows you to see exactly what is happening in the frequency spectrum without constantly looping over a section.
Try for Free, Buy Forever. Updates Included
Speed Matters
Typical spectrum analyzers have up to half a second of latency, making it incredibly difficult to track down split-second issues in the mix. Low Tides fixes this, with a latency of less than the blink of an eye. This translates to better mixes and a smoother creative workflow.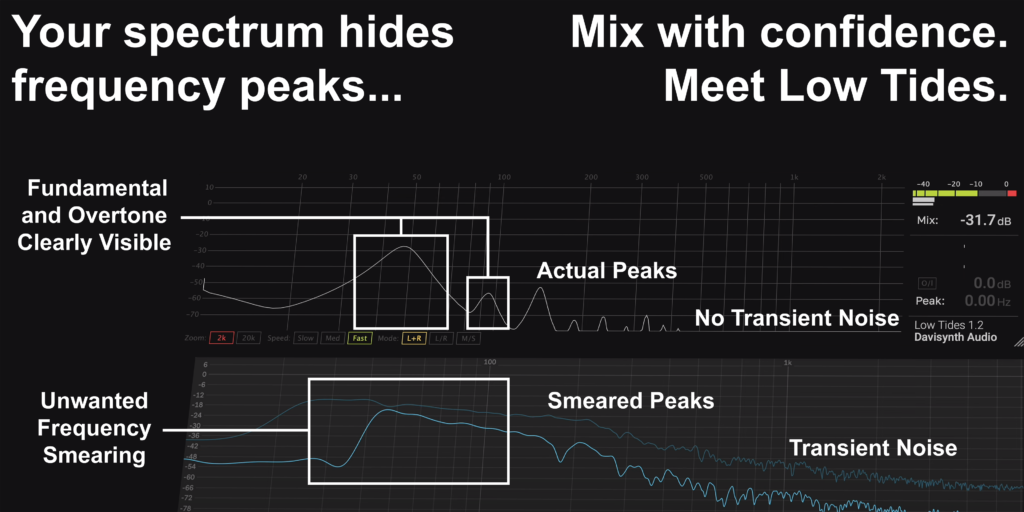 Emphasis on Instruments
Most instruments start in the 20Hz to 2kHz range. Low Tides zooms into this range with 2.5x the resolution compared to industry leading analysis software. This, coupled with powerful harmonic inspection tools makes Low Tides the most effective way to analyze tracks within your DAW.

Testimonials
"I have tons of analyzers but this is so nice and simple to use and that pitch tracking range is amazing, super useful, well done!!!"
"Super smooth I love this thing!"
"I wish this was default in Ableton it's so much nicer."
---
Get it Today
---
Development Roadmap
1.3 – Released 7/16/2023
This release adds Live Freeze, giving users the ability to analyze frequencies in slow motion
1.2 – Released 3/15/2023
This release added new tools to better analyze frequencies and overtones
1.1 – Released 1/6/2023
Bug Fixes and Improvements
1.0 – Released 1/1/2023
Initial Release, featuring the high resolution + low latency spectrum analyzer
Learn More